How to Choose a Car Radio Replacement
Your Guide to Car Radio Replacements
Even if you didn't opt for the upgraded sound system when you bought your car, you may still be able to improve your radio experience. Buying a car radio replacement allows you to access additional radio features, like Bluetooth or even hands-free calling and texting.
Choosing the right car radio replacement can be an overwhelming decision. There are many options available and the right one depends on your vehicle needs and preferences. We have compiled some of the highest-rated car radio replacements based on features for you to review.
What is a Car Radio Replacement?
A car radio replacement is an audio system that you replace your factory radio with. There are a few reasons why you may consider upgrading your car radio with a replacement, including:
Better sound quality: Upgraded radios can offer you better sound quality.
Upgraded features: Newer radios come with updated features, like digital media playback or Bluetooth connectivity. Some also come with touch screens.
More control over your radio: Newer sound systems also offer you better control with the ability to adjust things like bass and frequency.
Modern design: Upgraded radios also have a more modern design. They sometimes come in vibrant, colorful designs that can add an element of design to your car.
Additionally, some people may choose to change out their car radios for functionality. You may want a system that allows you to stream music from your phone, and listen to CDs.
Types of Car Radio Replacements
There are a few different types of car radio replacements to consider, including:
Touch Screen Car Radio Replacement
A touch screen is a radio system that allows you to access the controls via the touch screen settings. The Hieha Car Stereo is a touch screen system and is compatible with Apple CarPlay and Android Auto. This specific car radio replacement is made for vehicles that have 2 Din installation. It does come with a universal wiring bracket but if the vehicle's dimensions are not similar, it may not fit.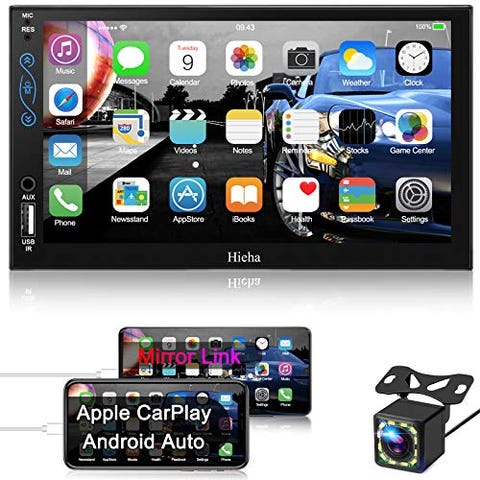 Hieha Car Stereo Compatible with Apple Carplay and Android Auto, 7 Inch Double Din Car Stereo with Bluetooth, Touch Screen Car Radios MP5 Player with A/V Input, Backup Camera, Mirror Link, SWC Hieha amazon.com $172.98 SHOP NOW CD Player Radio Replacement
A lot of newer vehicles don't come with radio systems that allow you to use a CD. If you still have a large collection of CDs that you want to enjoy on your commute, you might consider a CD player radio replacement. The Alondy Car Radio Stereo Headunit CD DVD Player is just what you need to play your favorite CDs if you have a compatible system. It features a 1 Din model size.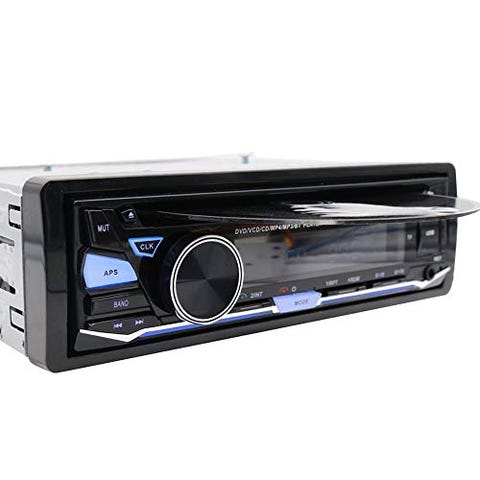 Alondy Car Radio Stereo Headunit CD DVD Player Bluetooth Receiver Single DIN MP3 USB SD AUX FM Alondy amazon.com $59.99 SHOP NOW Bluetooth Car Radio Replacement
A Bluetooth car radio replacement also allows you to sync it to your smartphone. The LinksWell GEN IV T-Style Car Stereo Radio Replacement has Bluetooth capabilities and is ideal for the 2019-2021 Ram Truck. In addition to the Bluetooth capabilities, it also offers other convenient features like climate control and Apple CarPlay, and Android Auto.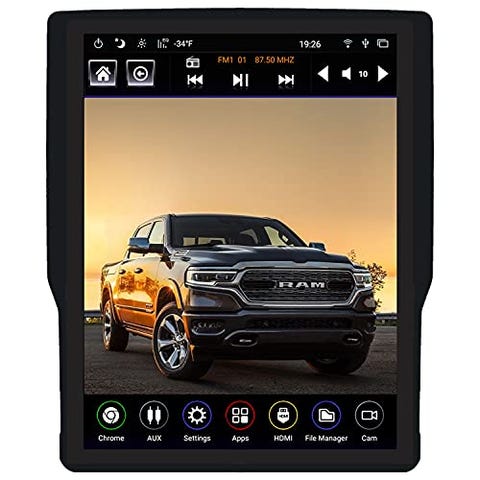 LINKSWELL GEN IV T-Style 12.1 Inch Radio Replacement for 2019 to 2021 RAM Trucks 1500/2500/3500/4500 Multimedia Android Auto Touch Screen Player Head Unit Car Stereo GPS Navigation TS-DGPU12-1RR-4A Showasaki amazon.com $1,295.00 SHOP NOW All-Inclusive Car Radio Replacement
If you don't want to choose just one feature, you may go with an all-inclusive car radio replacement. The Double Din Car Stereo Full HD is compatible with a double din design and offers features like Apple CarPlay, access to Phone Mirror Link, Rear/Front Camera Views, and a full touch screen design. It has a universal power audio plug, which means it fits with most 2 Din vehicle types.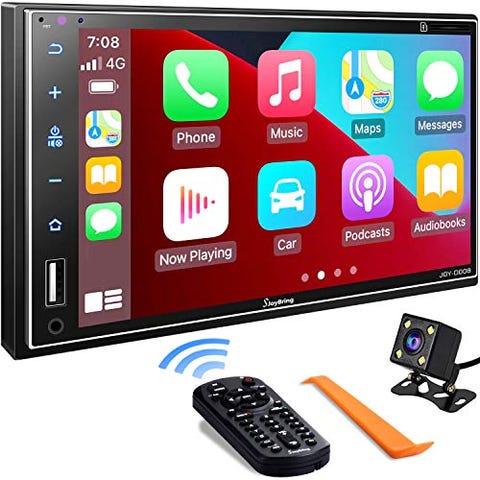 Double Din Car Stereo Compatible with Apple Carplay, 7 Inch Full HD Capacitive Touchscreen - Bluetooth, Mirror Link, Backup Camera, Steering Wheel, Subwoofer, USB/SD Port, A/V Input, FM/AM Car Radio SJOYBRING amazon.com $169.98 SHOP NOW How to Choose a Car Radio Replacement
You can choose the best car radio replacement by considering your sizing and preferred features. Always choose a car radio replacement that is made for your specific make and model of vehicle.
The radio size is usually measured by Din size. Cars have either a single or double din, which you can find in your owner's manual. There are also different types of receivers. This refers to the head unit or the type of multimedia receiver.
Another thing to consider when choosing a car radio replacement is the features that are most important to you in a car radio. A few features to consider include:
The ability to sync your smartphone.
USB inputs.
CD capabilities.
Spotify capabilities.
SiriusXM connection.
FM radio connection.
HD radio connectivity.
Bluetooth connection.
Apple CarPlay or Android Auto capability.
Additionally, car radios come in different designs. Choose one that fits the look of your interior, or go with a car radio replacement that allows you to customize its home screen for more options.
How to Replace/Install a Car Radio Replacement
Disclaimer: The guidelines in this story are general and not meant to replace instructions for your specific vehicle. Please consult your owner's manual or repair guide before attempting repairs.
You can install a car radio replacement with the following steps:
Remove the Previous Radio
Open the hood and disconnect the battery. Remove the trim around the current radio.
Add the Dash Kit
Place the dash kit in the opening where the previous radio was. While you don't have to use a dash kit, this can make installation easier.
Install the Head Unit
You will install your head unit one of two ways. You will either bolt it to the dash using brackets and screws, or you will install it with a mounting sleeve and spring clips.
Wire Your New Radio
Once you have installed the new head unit, it is time to wire your new radio system. You may solder them, or use butt connectors. Make sure no wires are exposed.
Reconnect the Battery and Test the Radio
Test the radio before permanently attaching the head. If it doesn't work, you may need to check your wire connections.
Add Mounting Brackets to the Head Unit
If the radio works, add the mounting brackets to the head unit and permanently attach it. Using a dash kit can make this much easier.
Choosing the right size is important. Otherwise, the radio replacement won't fit.
This content is created and maintained by a third party, and imported onto this page to help users provide their email addresses. You may be able to find more information about this and similar content at piano.io This commenting section is created and maintained by a third party, and imported onto this page. You may be able to find more information on their web site.
SEA-MALLS | CURATED | QUALITY | VALUE | CONVENIENCE
Find High Quality Products, Carefully Curated from the best Malls for your convenience on https://sea-malls.com/.
Professor Owl carefully selects what's currently trending; Top Quality, From Crystals to Dresses; If it's not good enough for Professor Owl, it has no place on https://sea-malls.com/! 
Trusted by Customers across 6 Continents, Professor Owl always says, "Quality and Value are NOT mutually exclusive".
With Products Always on Sale, Over 100, 000 Five Star Reviews & Always FREE Shipping Globally, https://sea-malls.com/ delivers high quality, trending products at real value & true convenience.
Originally posted on: https://www.caranddriver.com/car-accessories/a38266472/car-radio-replacement/